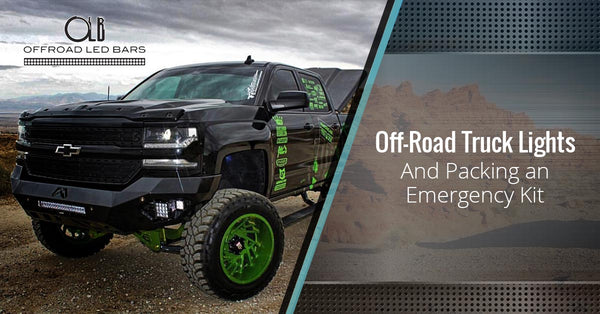 Off-Road Truck Lights and Packing an Emergency Kit
Being a proud member of AAA isn't going to do you any good if you get stranded while taking your truck up a trail mountain at night. What will help is someone you can call who has a 4x4 truck and a set of off-road truck lights from Offroad LED Bars to find you. 

Just because you have a great truck and you are a skilled driver, this does not mean that you can't run into trouble and find yourself in a precarious situation. This is made much worse should you break down or get stuck in adverse weather conditions.

For this reason, you need to make sure you have an emergency kit packed away in your truck. Here are a few of the things you need to pack in your emergency kit.

Charged Cell Phone
We know you already have a phone you will be bringing along, but pack a spare if at all possible, you never know when it could come in very handy.
It is also a good idea to pack a spare cell phone charger as well.
First Aid Kit
You first aid kit should contain an assortment of bandages, plenty of tape, antiseptic cream, gauze pads and aspirin.
Fire Extinguisher
You should have a fire extinguisher in your kit and it should be rated Class B. Fire extinguishers rated Class B are made for fires involving flammable or combustible liquids such as gasoline and kerosene.
Jumper Cables
You have a dead battery out in the middle of some really awesome trail and come across a fellow off-roader who would love to help, but they forget their jumper cables at home. You want to be well prepared and not have to rely on someone else.
Tow Strap
Well, duh!
Rain Poncho
Even if this is one of the cheap ones, it is a whole lot better than getting drenched in the rain and freezing.
Tools
Even if you aren't very handy under the hood of your truck, the right tools could get you out of a bind. There is no need to bring an entire toolbox, just a few of the more common tools will do just fine.
Water
You might want to just wing it and drink from the clear mountain stream, but we wouldn't recommend it.
Blanket
Even if you are stuck out on a trail in the middle of summer, it can and it will get cold at night. You will want to be comfortable.
Flashlight
We don't care how many LED lights you have on your truck, you can't hike out with them and they are useless if your truck battery is dead.
Also, don't forget to bring extra batteries for the flashlight.
Duct Tape
It is widely believed that duct tape can fix just about anything. We aren't sure about that, but it will come in handy in many ways should you find yourself stranded on a mountain trail.
Before going on that mountain trail, shop LED lights right here at
Offroad LED Bars
.